UVAX's Smart Cities solution applied to remote management using the street light infrastructure consists of the following parts: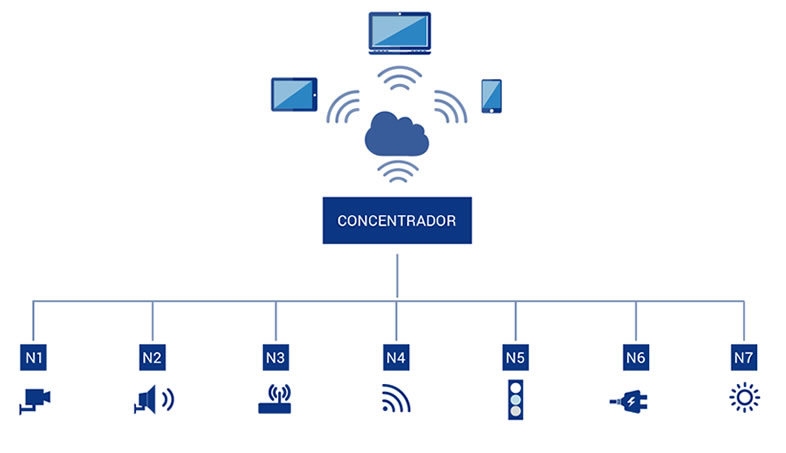 Concentrator
This is a high-tech device fitted on the street lighting electrical control panel. It sends data to the cloud, where they are accessible from the control centre or from any mobile device.
Nodes / Outdoor Lighting Network (OLN)
This is a device which, when fitted on each of the lights, can be used both to manage the lighting itself and to control devices linked to these Nodes through wireless (or similar) systems.
The Nodes are connected to the concentrator at the end of the row of lights through the electricity grid itself. That communicates by WiFi, PLC, GPRS or 3G, etc. with the control centre (server) where the user can configure and supervise the entire system.
THE SYSTEM'S ADVANTAGES:
The system allows broadband PLC  communication, taking advantage of the existing electricity grid, which provides high speed and a robust system of communication with the server on the internet
It is very straightforward to install, as the system itself has built-in automatic network management, making it a P&P (Plug and Play) solution.
A SCALABLE SOLUTION:
A complete end-to-end remote management solution with total, independent control of each Node. It is possible to incorporate innovative Smart City solutions into each access point.
A solution for remote management from the electrical control panel with the option of independent management of each circuit. It provides real-time and historic consumption and incident data.
It is possible to control adjustable ballast and LED drivers.
A latest-generation control centre with GIS maps to manage inventory, alarms, consumption and manual and/or automatic programming of the entire municipal infrastructure.
UVAX is a regular member of the TALQ Consortium. TALQ is a consortium made up of the leaders in the lighting industry to create a standard protocol. UVAX is an active participant. This protocol is intended to establish a management software interface accepted worldwide to control and monitor the entire Smart City infrastructure related with street lighting and create interoperability between the available solutions.